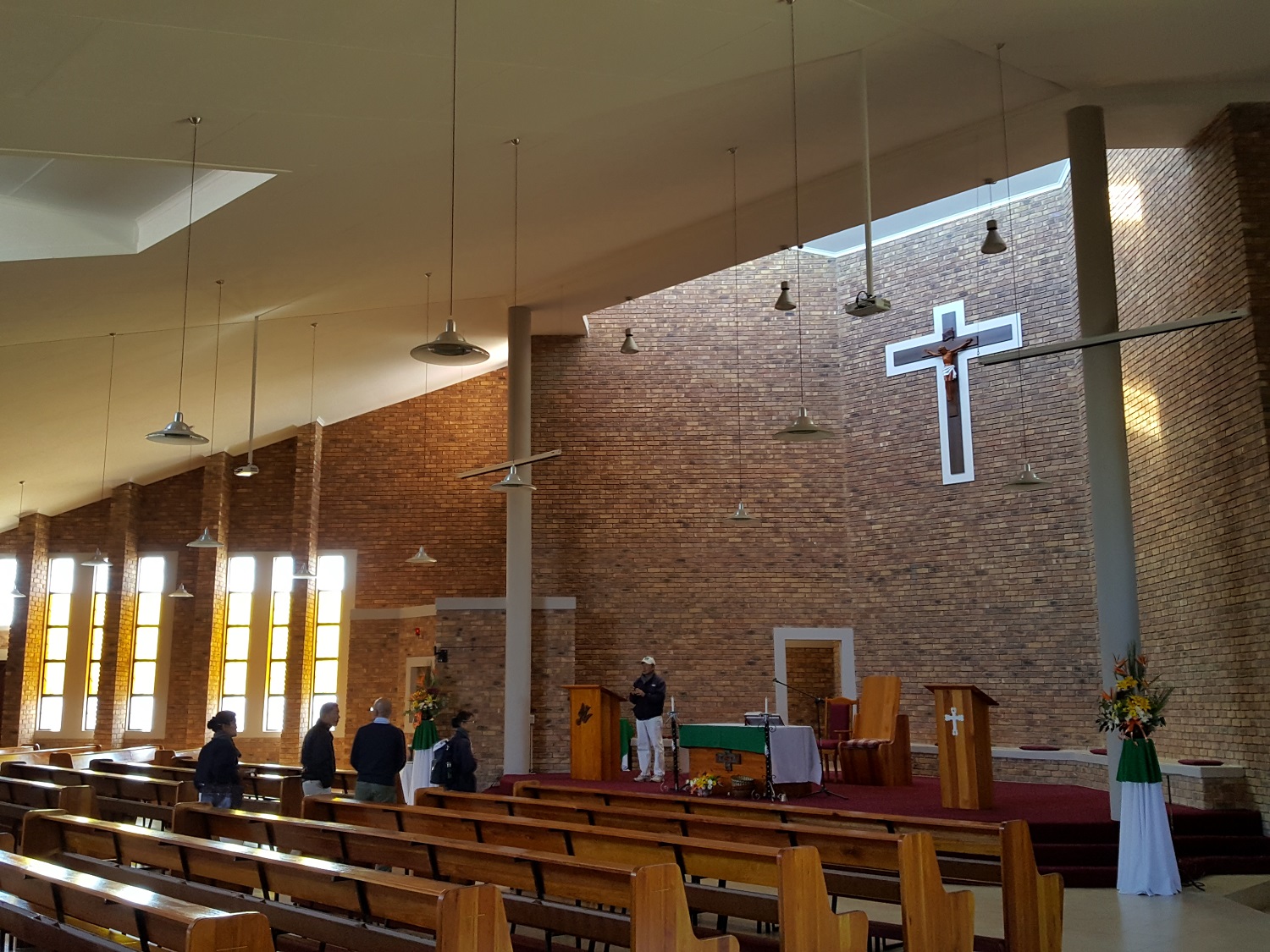 GELUKSDAL Catholic CHURCH
The New Geluksdal Catholic Church was designed and built to replace the existing church on the same stand, which has become a church hall for parish-associated receptions and functions. The much larger new church was a more dignified and noble space for worship, directing the congregation heavenward with its swooping ceiling which culminates above the sanctuary and altar in a counterplay of light which comes down from skylights and windows from an unseen source high up: the aspiration of human beings attempting to reach the heavens encounters the Divine, which comes down to earth in the form of light and the two encounter one anotherin the event of the Sacrifice on the Altar.
The church is a truncated square in plan, which has one of the corners forming the sanctuary at the east end but the elevations rise in height towards the east and the square is not reflected as a cube in form or elevation. Rather, the organic form rises and reaches its apex in the landmark bell-tower which presents the Church to the surrounding areas, especially to passing traffic which enters Geluksdal by the bordering main road.
Within the main space of the congretation, designed for maximum visibility to the altar, on the left the tabernacle with a modern cable-suspended octagonal baldachin is counter-balanced by the baptismal font on the right. The recessed octagonal walls and upper clerestorey windows render these spaces important in their own right.
A smaller chapel was planned but not built, for weekday masses to be celebrated daily and has a separate entrance independent of the main church. This chapel presents its face towards the parking lot, whilst the main church opens off the narrow driveway. This was the only solution for a very narrow and difficult site to work with, and it is hoped that one day the buildings across the driveway from the church will make way for a plaza onto which the new church can open.
Project:
New Catholic Church
Client:
Parish of St. Martin de Porres, Geluksdal
Area:
821m²
Completed:
2015