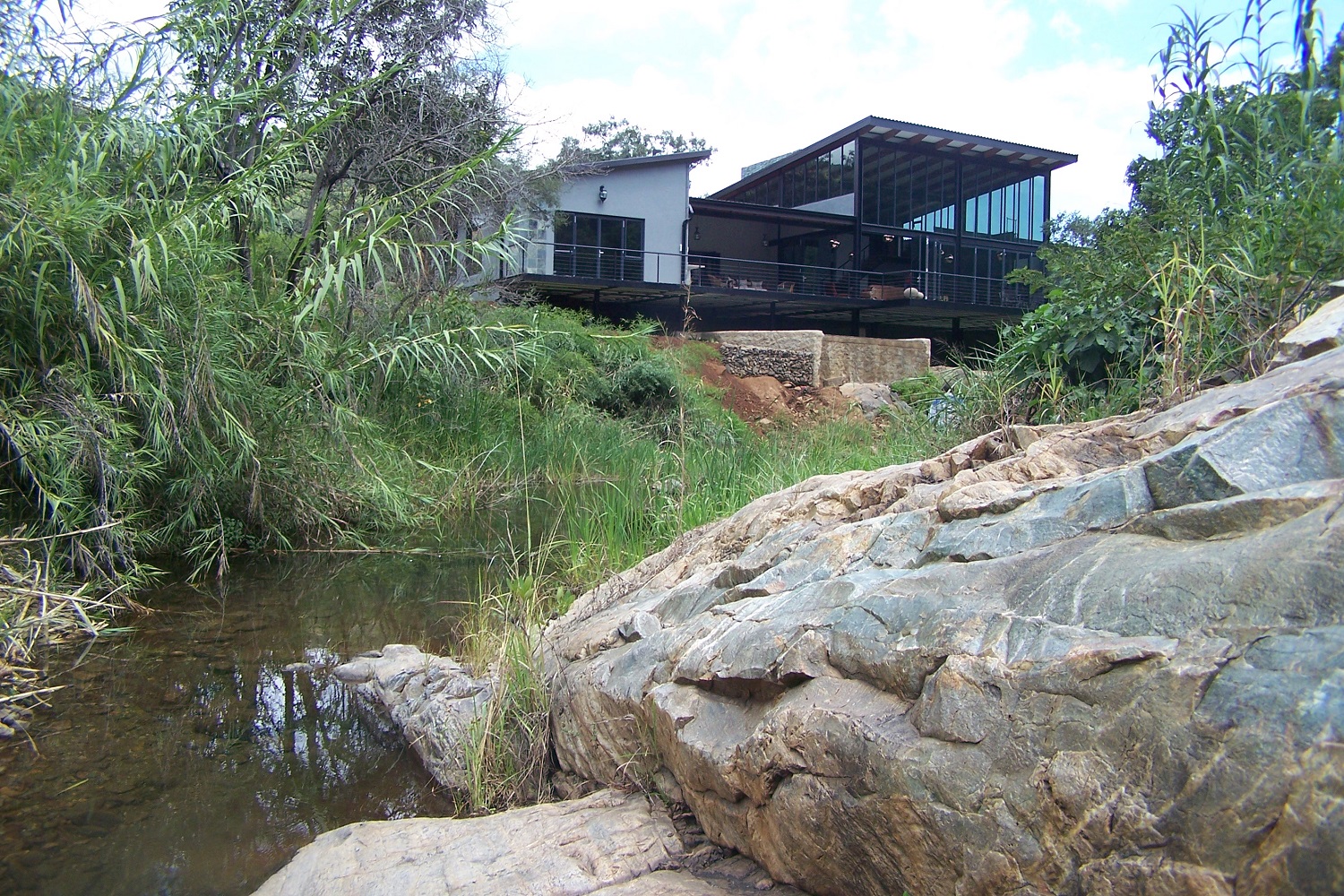 One of the most challenging sites on this Wildlife Estate in the Lowveld, provided the opportunity for a most exciting setting and architectural response. The flood-line of the river along which this house is built forced the ground floor to be raised above the ground level on the river side, resting on the groundonly via a grid of steel pillars with concrete bases. On the entrance side, the house is only slightly higher than the ground level and firmly rooted in the terrain – this emphasized by the stone-clad tower element that marks the entrance.
A number of raised decks with different conditions were designed – covered, uncovered, semi-enclosed, or corridor-like, onto which the different rooms open and which allow for choice of place, depending on climatic exposure and functional needs. The client requested a glass box for the main volume, which was then "grounded" by the stone tower and from which the building is thrust over the edge of the slope and cantilevers over the river. A double-volume living space allows for dramatic views of the hillside opposite the river, and all bedrooms face this same (north) direction. Equally important as the interior of the house is a deep sheltered veranda for outdoor living adjacent to the double-volume glazed internal space. Here it is a sense of being outside but "tucked away" in the fabric of the house, whilst still commanding views of the river and the opposite hill.
Glazed sliding-folding doors allow for visual continuity when closed, and spatial continuity when opened, blurring the sense of being inside or outside, and when opened leave steel columns free-standing on the deck.
Project:
New House in Greenstone Wildlife Estate
Client:
J & F De Witt
Area:
450m2
Completed:
2011
Collaborators:
TPS Architects